What to do when the road holding changes?
Road holding, road handling… From time-to-time drivers may notice that their car is not behaving as it used to, even though they have not done anything special. Or at least that's what they think! What should motorists do when they notice poor tire handling while driving? A visit to a professional is necessary to help make the good diagnosis.
Read on to learn more with Michelin.
Handling performance refers to the way in which the vehicle/tire responds to the many demands of the driver, such as steering, accelerating and braking. Handling is crucial both in terms of safety, for the stability of the vehicle, and driving pleasure.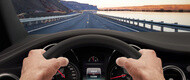 Why road handling has changed?
Kerb, pothole, speed bump… there are several causes that can change the vehicle behavior.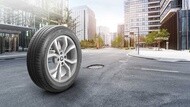 When wheels are knocked out of alignment, you may sense a lack of steering responsiveness, feel more vibrations, or the car may pull to the side, for example.
Whatever the reason, the good news is that it is fixable. Professional wheel alignment services or wheel balancing services can fix this.
Why tires have a major role in a vehicle handling?
As far as the driver is concerned, road handling is above all measured by the extent to which the vehicle responds to the driver's actions. Everything should run smoothly, consistently and without any surprises.
For car manufacturers, road handling is one of the major aspects of performance. Linked as it is to safety and driving pleasure, performance in this area is a deciding factor for tire approval. Indeed, it is one of the performances most commented on by professionals (opinion leaders and at press events), as well as by drivers.
Handling development is particularly complex as it depends on a range of factors at three different levels, namely:

• the vehicle (geometry and weight distribution),
• the elements involved in ground/vehicle contact (tires, steering and suspension),
• the driving assistance systems (stability control and the steering axle).
The tire plays a key role in road holding because at the end of the chain it ensures the transmission of the efforts between the vehicle and the ground to maintain the trajectory defined by the driver.
The handling performance of tires is assessed through a number of tests (both objective and subjective, on dry ground, wet ground and on machines).
Road handling is mostly repairable by doing a geometry. But in case of a big impact, the mechanical parts of the vehicle can be affected and damaged.
Why wheel alignment is key for your safety?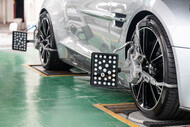 If your vehicle's suspension geometry is incorrect, its handling may be altered, and your safety compromised. You may notice uneven wear on your tires.
It's important to ensure correct alignment to get the best road handling, to protect your tires from irregular and/or rapid tire wear and to save fuel.
What about wheel balancing?
A well-balanced tire, with an even distribution of weight, rotates on its axle without causing any vibrations. For perfect balancing, weights are placed at certain points around the rim.
This can only be carried out by specialists, as it requires specific measuring equipment. Well-balanced tires make for more comfortable driving, longer tire life and less premature mechanical wear. Find out more on wheel balancing.
How can you find a wheel alignment and wheel balancing specialist near you?
There are several ways to search for 'wheel balancing near me' and find a professional garage. Having your tires realigned will help improve the tire handling. Use our dealer locator tool.