Runflat or run flat tire, RFT tire, run on flat tire, puncture proof tire, Self-supporting tire, extended mobility tire, zero pressure tire, ZP, EMT, SST, ROF, BSR... You may have already come across one of these terms without really knowing what it means. For several years now, runflat technology has been used mainly for sport and premium vehicles as a solution against the risk of accidents caused by a sudden puncture.
Read on to learn more with MICHELIN.
How do runflat tires work?
A run flat tire is designed with reinforced sidewalls that help support the car's weight and allows it to continue to run after a loss of pressure.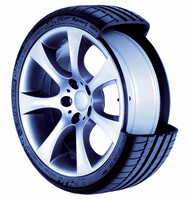 They allow the tire to maintain sufficient stability for some time meaning that drivers won't get stuck on the roadside waiting for assistance and will be able to reach the nearest garage on their own.
How to recognize runflat tires?
Motorists should be able to tell whether they have a set of runflat tires fitted to their car by looking at the coding on the tires' sidewalls.
Marking of run flat tires varies according to the manufacturer.
MICHELIN's runflat tires for sale have a 'ZP' or "EMT" code on them:
- ZP for Zero Pressure
- EMT for Extended Mobility Tire
Buying puncture-proof tires gives you more comfort and peace of mind. In practice, you no longer need to change a flat tire at the roadside. However, it is important to understand that you cannot ignore the puncture and continue to drive for a long time. An imminent visit to a garage or tire fitting center is imperative.
What to do in case of pressure loss?
Drivers who have runflat tires fitted can continue travelling along their journey for a maximum distance of up to 80 more Kms. Moreover, motorists can continue to drive at speeds of up to 80 km/h on run flat tires.
These figures may vary depending on tire profiles and manufacturers. In concrete terms, your driving range will depend on the load of your vehicle, the outside temperature, and the road.
Are run flat tires repairable?
Each manufacturer is free to decide whether or not to repair runflat tires.
Runflat tires repair service is technically possible, but not in all cases. Get a professional advice!
 
MICHELIN runflat tires can be repaired only once by a professional under the same conditions and by following the same inspection and repair procedure as non-ZP tires. This is with the exception of those whose sidewall explicitly states that they cannot be repaired.
Can runflat tires be fitted at home?
Runflat tires can be fitted at home. However, you should really know what you are doing. That's because removing any type of tire from a rim and fitting a new one properly in place before inflating it is challenging work. Most car owners should try to locate a dealer who can do the job for them instead. Drivers can easily search online for 'run flat tires near me'.
If your spare tire is a run flat tire, it can be replaced in the same way as a regular tire.
Advantages of Run flat tires
Safety
Control of the vehicle with complete peace of mind, even in the event of loss of pressure or a puncture
Reduced risk of the tire coming off the rim
No need to change tires (spare) which could be dangerous on a busy road
Ability to continue along the journey without stopping to change the wheel, at moderate speed to a nearby garage
 
Comfort
No immediate replacement of the flat tire on the roadside. 80km driving range (speed limited to 80 km/h)
Slight space saving in the trunk of the vehicle since the spare tire is no longer necessary. That reduce weight in the vehicle, too.
 
Savings
No need to invest in a spare tire, nor in the equipment needed to change a wheel.
How do I know if my vehicle can be fitted with runflat tires?
MICHELIN runflat tires may only be mounted on rims with double hump and vehicles for which the manufacturer has approved a self-supporting tire mount.
Michelin recommends not mounting a self-supporting tire on a vehicle that was not equipped with one in the first place (as an option or in series) because of specific design constraints (weight and rigidity).
The vehicle must be equipped with a pressure monitoring system (TPMS) to warn the motorist in case of pressure drop.
Michelin recommends equipping the vehicle with 4 MICHELIN ZP tires.
Where can I buy runflat tires?
Use our dealer locator to find a runflat tire near you.
What other anti-puncture solutions are available? What are the alternatives?
Whether you want to fit run flat tires on your vehicle, it is important to know that other options are available.
- Using a car tire sealant spray:  this spray to stop leaks is the easiest solution for dealing with a punctured tire.
- Replacing your punctured tire with a spare tire
- Using tires with a built-in sealant technology, such as MICHELIN Selfseal
Can I use snow chains with runflat tires?
When using snow chains, Michelin advises to use chains with automatic tensioners which adapt better to the deflated tire.