Pressure
For reasons of safety and in order to optimise the life expectancy of any tyre it is essential to ensure that it is correctly inflated at all times.  Running with correctly inflated tyres in accordance with the tyre manufacturer's recommendations also makes a significant contribution to straight-line and cornering handling, including under braking and at low speeds.  Running under-inflated tyres can lead to premature wear and irreversible damage, and greatly increases the risk of tyre creep or the possibilty of unseating the tyre, even when using rim locks.
Off road tyre tyre pressure recommendations are only suitable for limited durations, speeds and loads on sealed high speed surfaces such as roads.  Increased tyre pressures are advised for unavoidable road use, prolonged road use should be avoided altogether.  Air is gradually lost from tyres, it is therefore essential to systematically check tyre pressures before use.  After checking, remember to refit the valve cap, which along with the valve core itself, ensures an air-tight seal.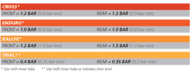 Recommended pressures
These are the tyre pressures recommended by Michelin depending on the terrain,
the weather conditions, the power of the bike and the type of control:
MICHELIN Bib Mousse: Michelin's off-road solution to a puncture!
Invented by MICHELIN and intended for Cross Country, Rally, Enduro and MX use, Bib Mousse is:
Lighter than a reinforced tube, with a pressure equivalent to 0.9 bar (13psi), it eliminates the inconvenience of a puncture.
Designed exclusively for MICHELIN brand tyres and for all terrain leisure use.
The maximum speed with a tyre using MICHELIN Bib Mousse is 130kph (80mph). It carries the letters NHS (Not for Highway Service). Consequently, it should not be used on the public highway.
MICHELIN Bib Mousse should not be kept long term at temperatures above 30°C and it is best to avoid temperatures above 40°C altogether.
It can be used for a maximum of 6 months after fitting, however the lifespan of MICHELIN Bib Mousse varies considerably depending on the intensity of usage and the discipline practised. For example, it will be much shorter for Motocross than for Enduro.
Before a fast stage, we recommend you warm up the tyre and the MICHELIN Bib Mousse progressively at a moderate speed.
Apply Michelin gel every time you put on or take off a MICHELIN Bib Mousse, both new and used, to prolong its life and avoid excessive overheating.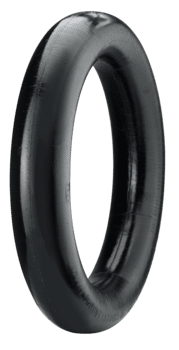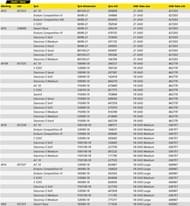 Handling and storage
Your tyres should be kept somewhere ventilated, dry and temperate, out of direct sunlight and away from temperature extremes, all chemicals, and any solvent or hydrocarbon which might affect the rubber. They should also be kept well away from anything that might pierce the rubber (for instance sharp metal or wood) and away from direct heat or electrical charges.
Trial tip
The design of Trial tyres makes them tricky to mount. You run the risk of breaking bead wires if you press too hard.  Carefully adhere to the fitting instructions for insertion of the rim hooks (lubricate, firmly hold the bead on the opposite side in the rim hollow - do not exert excessive force on the bead).  To inflate, position a rubber ring between the tyre bead and rim or use a firmly tightened strap on the tyre crown to enable initial pressurising.
Tyre wear
The tread provides most of the tyre's grip on the ground. With wear, the tyre's grip decreases. So remember to regularly check your tyres for signs of wear: visually check the depth of the tread and the uniformity of the wear. Tyre pressure also has a direct impact on wear.
Two possible classifications for the same tyre dimension
Careful! There are two classifications for the same tyre dimension.
Old classification: Enduro, Desert, Range 12
New classification: Starcross, AC10, Trial Light and Xlight
For the Enduro, Desert, S12XC and M12XC ranges the size designation is based on the width of the tyre measured at tread level.
For the Starcross, AC10 Trial Light and Xlight ranges, the size designation is based on the width of the tyre measured at sidewall level.
A 130/70-19 Cross Competition S12XC corresponds to a 110/90-19 Starcross 5.